President Muhammadu Buhari has described as deliberate misinformation the assertion of PDP presidential candidate in the 2019 election, Alh. Atiku Abubakar that United States extended their visa ban to Nigeria due to lack of the government's respect for Human rights.
The president in a tweet by his Special Adviser on New Media, Lauretta Onochie posted: "FACTS AND FICTION
"It is utterly disgraceful that a former VP of Nigeria and the 2019 Presidential candidate of @OfficialPDPNig, @atiku, would deliberately, misinform and mislead Nigerians.
"What sort of a leader disrespects his people in this way?
He should apologise to Nigerians".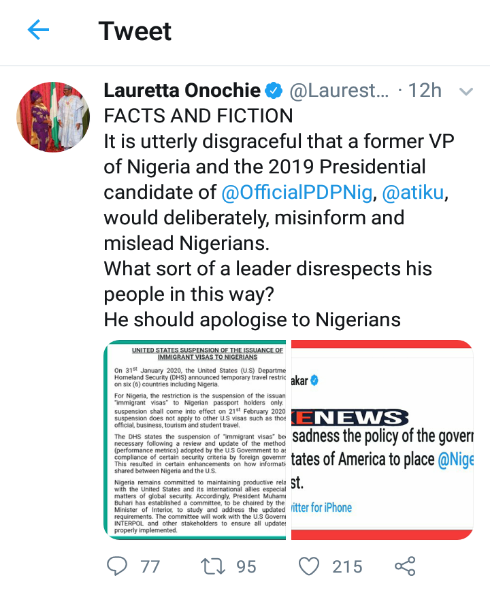 Atiku had also in a tweet pleaded with the US President, Donald Trump to reconsider his visa ban policy on Nigerians should not be punished for inefficiencies of the government.
"The current Nigerian administration may have its deficiencies and deep faults, but the Nigeria people ought not to be punished for their inefficiencies" his tweet partly read.