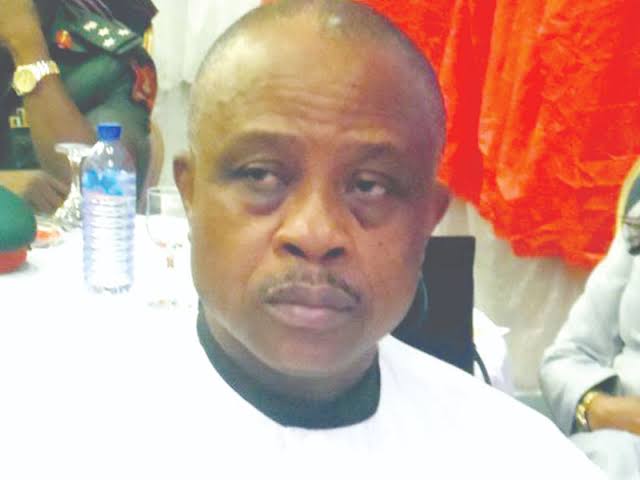 Chief Ikechi Emenike, the factional governorship flag bearer of APC in Abia State has come under fire for saying that Chief Whip of the Senate, Senator Orji Uzor Kalu sponsored the creation of Action Peoples Party, APP to front his younger brother, Mascot Kalu as a governorship candidate.
Responding to the allegation, a chieftain of APP, Pastor Okey Umezie in a chat with media men in Abuja said Emenike's allegations is baseless, insipid, and hollow.
"My attention has been drawn to the cacophonic but insipid allegations of Ikechi Emenike against the personality of Chief Mascot Uzor Kalu, the governorship candidate of our great party, APP, in Abia state. While I would not want to get into issues with him, it is pertinent to state the obvious that his allegations are baseless, insipid, and hollow; hence, I need to set the records straight.
"How can he (Emenike) say that APP was founded by Senator Orji Uzor Kalu when the party in question is a national party that has been in existence for years? So, how did Orji Uzor Kalu, a non-member of the party, form it just for the sake of the 2023 election in Abia state?"
Speaking further, he refuted with laughter the insinuation of Emenike that Chief Mascot Kalu is being bankrolled by his brother for the upcoming election, stating that his associate (Chief Mascot) is a successful businessman that has come of age to undertake any political adventure without interference from anybody.
"For the umpteenth time, Ikechi Emenike has forgotten that Chief Mascot Uzor Kalu is an industrialist of international repute who has carved out an enviable niche for himself in the real estate, construction, finance and banking, and hospitality businesses for over twenty years now.
"Do I need to remind him that Mascot's entrepreneurial giant stride is recognized even in the US? In June 2007, the City of Charlotte, North Carolina, recognized him as one of the most powerful urban businessmen of the year. He further became an awardee of the USA Democratic House Caucus Businessmen Club and the Republican House Caucus Businessmen Club in 2006 and 2007 respectively.
"Is it not laughable to say that such a man who has built businesses into international conglomerates with a net worth of over $15 million as of 2007 is being bankrolled by his brother to contest the election?", he asked.
APC in Abia state has recently been hit by internal wrangling and factionalization. Because of this, Pastor Okey Umezie reminded the party's governorship candidate to leak his wounds and tell Abians his manifesto, if he has any, instead of throwing tantrums at other candidates.
"His incessant tantrums show that he has nothing to offer. If he has, let him tell Abians.
"In Abia state, Chief Emenike must be told that his party has lost electoral value, so he has a lot to deal with. But instead of focusing on developmental issues, he is busy throwing baseless tantrums.
"I am, however, not surprised. What good do you expect from a factional governorship candidate who went to a reconciliation ground but only continued to sow the seeds of discord with such bizarre statements because of his unbridled ambitions?
"The same Orji Uzor Kalu he is speaking ill against today is the man he (Emenike) knelt for at Prince Benjamin Apugo's house in Umuahia, begging to make him governor in 2007 after claiming that his Umuahia brother, T. A. Orji, would not make it out of prison. So, to me, his recent statement is reminiscent of a man suffering from cognitive dissonance."
"APP in Abia State, in any case, cannot be intimidated or distracted by any political propaganda, as we are ready to wrestle power from the ruling PDP through our credible candidates across the board, and don't get it twisted APP is here to stay for the betterment of all Abians.," he concluded.