President Muhammadu Buhari, will on Friday, 19th May, 2023, officially commission the permanent site of the Nnamdi Azikiwe University Teaching Hospital (NAUTH), Nnewi, Anambra State.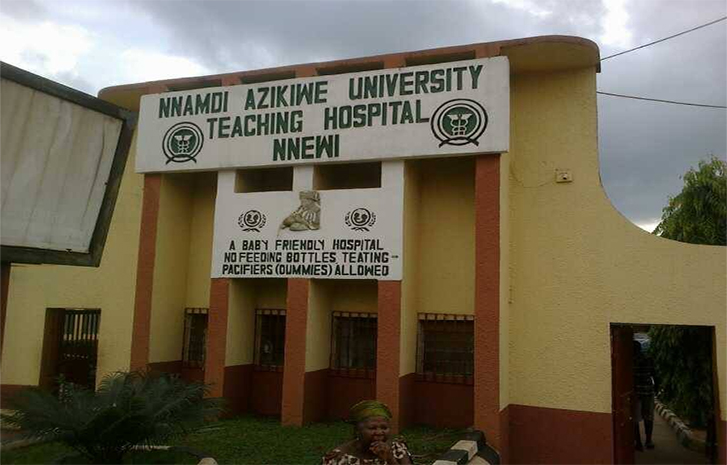 According to a release signed by the Head of Corporate Affairs Department of the NAUTH, Nnewi, Mrs. M.C. Onwuka and made available to Journalists in Awka, on Wedneday, the President, will also commission some Sustainable Development Goals (SDG) projects at the institution that same day; while the day will also mark the groundbreaking ceremony for the Igwe Orizu International ICT Centre, Nnewi.
Onwuka highlighted some of the facilities to be commissioned that day at the NAUTH permanent site including the speciality building, medical ward complex, accident and emergency complex, mother and child centre, trauma ward, special treatment centre, molecular laboratory, paediatric emergency building, surgical ward complex, diagnostic centre, tiled road networks, oxygen plant, and cryogenic oxygen production unit, among others.
READ ALSO: FG Approves Development Of Platform For Birth, Death Registrations
Other guests expected at the occasion include the Anambra State Governor, Charles Soludo, the Honourable Minister for Health, Dr. Ehanire Osagie, who will be the Guest of Honour; the Senior Special Assistant to the President on SDGs, Odejoke Orelope-Adefulire, who will be the Distinguished Guest; among other expected guests and personalities from both within and outside the state.
The event, which has the Chief Medical Director (CMD) of NAUTH, Dr. Joseph O. Ugboaja, as its host, is also expected to be graced by the H.R.H. Igwe Kenneth Orizu of Nnewi, as the Royal Father of the Day.