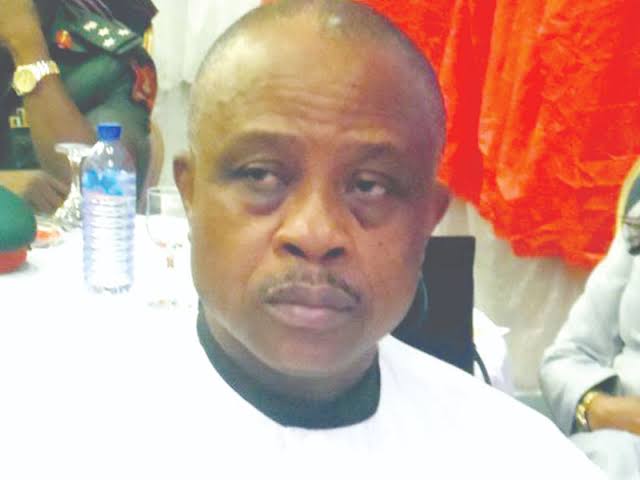 Prominent businessman and Politician , Chief Nnanna Kalu has urged the national leadership of the All Progressives Congress (APC) to caution a factional governoship candidate of the party, Ikechi Emenike.
Kalu described Emenike as a divisive politician that has polarized the party in the state
Kalu stated this in a chat with newsmen at the national headquarters of the party on Monday morning , stressing that Emenike lacks the capacity to win the 2023 governoship election in the state.
He accused Emenike of working with the People's Democratic Party (PDP) to cause confusion in the APC through promotion of hate, lies and acrimony.
"Today APC is in trouble with characters like Ikechi Emenike. Emenike is the biggest problem in APC today. With support from two Ministers in Abuja he hijacked the party for his selfish interest . People are leaving the party everyday because of him.
"I am appealing to the national chairman of our great party, Alhaji Abdullahi Adamu and other leaders of the party to call Ikechi Emenike to order. Emenike is now abusing party leaders like Senator Orji Uzor Kalu and Uche Ogah . Is that the person that wants to win election in Abia ?
"I knew opportunities were given to him to reconcile with other party leaders in Abia and he and his cohorts refused to be part of it, one of those opportunities headed by Hope Uzodinma of Imo State and another headed by the present National Chairman of APC. In all, Emenike constituted himself as a sole proprietor of APC which led to the defection of many members including Dr. Alex Otti, Mascot Uzor Kalu, Chief Amobi Ogah, Etigwe Uwa (SAN), Hon. Acho Obioma and others.
"Emenike has no electoral value in Abia State and should not pretend about it . He is the reason why people are leaving the party. A man who can't win his polling unit is parading himself as governorship candidate. All politics are local and Emenike lacks what it takes to win a Councilorship position. "