After Visiting Ben Kalu Who Gave Him Multiple Bloody Nose At Electoral Contest, Chima Anyaso Reveals His Mission [Photos]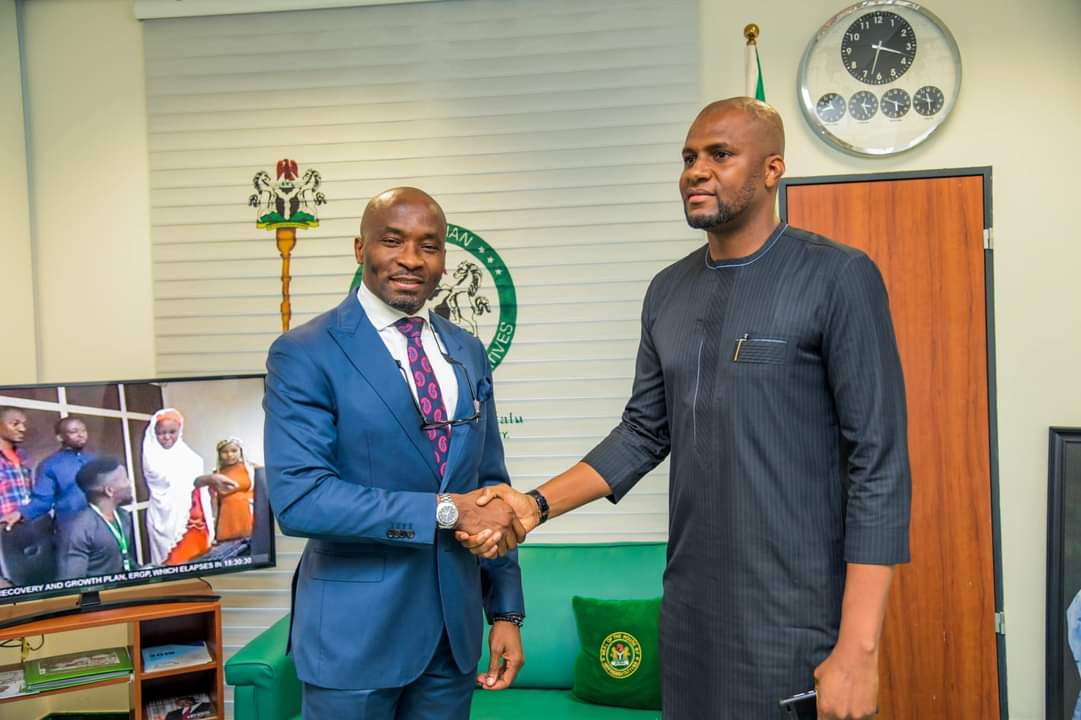 By Chinedum Ibeh,
While political watchers were still hailing the serially defeated PDP's Chima Anyaso for his courage in what appeared to be a visit of bridge building to member representing Bende Federal Constituency, Abia State Hon. Benjamin Kalu, Anyaso has finally revealed his mission at the visit, saying he was merely acting a script.
Recall that Hon. Benjamin Kalu of the APC trounced Anyaso of the PDP in the 2019 race to represent the people of Bende Federal Constituency after losing in a celebrated radio debate he organised .
Infuriated by the bloody nose he suffered in the hand of the now spokesperson of the House of Representatives, Chima Anyaso approach the electoral petition tribunal in Abia where again Benjamin Kalu trounced him.
Undeterred and fixated with pipe dream of claiming his imaginary mandate, again Anyaso approached Court of Appeal sitting in Owerri, seeking annulment of Hon. Benjamin Kalu, a mission he failed woefully to achieve as Ben Kalu finally buried his dream of representing the people through the back door after his rejection at the polls.
Still deeply pained that he has eaten the humble pie, earlier in the year through a stooge, one little known Ezeala Okechukwu, instituted a suit seeking the annulment of Hon. Benjamin Kalu's election on the ground that he was 'not qualified' to contest the election, alleging that his primary school certificate was forged.
Like several other desperate attempts, he failed and the court struck out the case for lacking in merit. This was after the court also threw out his suit to be joined to the okey Ezeala's sponsored matter .
After the six epic wins against him, Anyaso in the company of Obinna Chidoka, a member of House of Representatives visited his nightmare, Hon. Kalu on Thursday in Abuja.
The broad minded and civil Hon. Kalu a day after the hypocritical visit of Anyaso wrote, "I have always believed that politics without rancor or bitterness is a sure way to progressive leadership and productivity, and this will not be changing anytime soon.
"Yesterday, I received one of my constituent whom I represent, and an opponent in the 2019 general elections, Chima Anyaso accompanied by a mutual friend Rep. Obinna Chidoka both of the PDP.
"Despite the distractions he has brought to me in the past two years of my administration, I will continue to emphasize that we are first brothers before politics and this is why we will put our differences asides when necessary.
"It was my pleasure to have him acknowledge the work we are doing in the constituency and for once accepted that Bende made the right choice with his encouragement for me to keep up the good work."
The real reasons Anyaso embarked on the infantile visit however was blown open as he posted on his WhatsApp group ( Chima Anyaso Mandate, where he addresses his supporters ) that he had gone there to act a movie script without a genuine intention contrary to what Hon Ben Kalu who warmly received him thought.
Declaring himself a 'winner' he alluded to his substanceless height and his hand across the shoulder of Hon Benjamin Kalu as meaning 'remaining on top'.
He said, "I remain the winner and always on top as shown in this picture. I'm the movie director. Will play another one when i decide to. Make una enjoy una weekend oh @… is good you are in touch with all of them."
Disappointed by this public show of shame, an indigene of Igbere his community in Bende Federal constituency who gave his name as Chinonso Obasi took a swipe at the multiple defeated Anyaso, saying height is not an indication of a man with substance or capacity even at that our Representative is not a short man at 6.2 ft. This man keeps disgracing our people with his desperation accept defeat and be humble we are bored with his desperate moves. He actually invaded the privacy of the Honourable member and recoded him without his permission and the next thing it is all over the news . What a rude , disrespectful and despicable act"?
"Read his lines 'I remain the winner and always on top as shown in this picture'.
What an infantile expression ? You lost 6 times and still calling your self a winner ? Abeg winner of what ? Of bloated ego and pride ?
"When all of us thought he went on a matured visit to the honourable member as a brother that the honourable member took him for , all the while we did not know he was merely acting a script he was directing . Again read how he described himself " I AM THE MOVIE DIRECTOR … " so to him he believes bende and her future is a small movie and he is in Nollywood , no wonder Bende rejected him and will repeat same over and over again because we are not looking for movie stars and directors we had many before now and currently too ; the great Ukonu club , the famous Clarius etc . Chima Anyaso join the Nolly wood club and stop wasting your long legs and long hands use them well in plays not politics , politics and leadership needs brains not how tall you are .
"Your assessment of strength is how tall you are not how sound your mind and brain are and until you build your mind you will never lead Bende of great minds . Oh that was why you begged to put your hand on his shoulder to compare heights ? Wow ! We are more interested in the power of the brain than the length of your legs . Being taller you should be educated enough to know it does not make you on top . Our rep is tall enough at 6.2 you could be 10.5 and yet be under where he has kept you . Your height has been deceiving you. Only your legs are long not your tiny brain .
"He called himself a movie director , not tomorrow he will deny. From today you are the movie director . Read him again;" I WILL PLAY ANOTHER ONE WHEN I DECIDE TO. "
"At least we now know you take Bende as a cinema hall and we all as the spectators waiting for your new movie for us to watch . We will keep watching you while you keep " PLAYING". Bende people don't need players like you . Player Bring the next play on and we will watch you for free because you are bad at the movies you are directing they not worth our hard earned penny . Stop shaming great Igbere people we don't behave like you . We are like Orji kalu in politics he failed twice and moved on and today he is in a higher position . You failed once and you are disturbing us , watch you will fail again with your movie since Bende is a theatre for you "
Chinedum Ibeh A political analyst, writes from Abia State.
SUBSCRIBE TO OUR YOUTUBE CHANNEL
---
---
For publication of your news content, articles, videos, or any other newsworthy materials, please send to abnonlinetv@gmail.com
For Advert and other info, you can call 07013559600 or send a WhatsApp Message to 07013559600