Man Stakes N200k, Seeks To Know Igbo Senator Who Has Exceeded Sen. Orji Kalu's Performance
A supporter of the Senator representing Abia North, Sen. Orji Uzor Kalu has staked 200k as price for anyone who can provide evidence that any Senator from the South East zone has exceeded the performance of the Senator between 2019 till date.
The supporter whose name was identified simply as Nwanta Anayoeze, ABN TV gathered he joined the Senator's entourage on a road construction inspection tour around Nkporo in Ohafia local government area of the state on Tuesday.
He expressed shock at the level of infrastructure the former governor has initiated and completed within his short stay in the Senate.
READ ALSO: Those Insulting Sen. Orji Kalu To Please Gov. Ikpeazu Exposing Abia To Security Threats — Rep. Kalu Cautions (Video)
Describing himself as blessed, he said the kind words used in qualifying Sen. Kalu is not aimed at currying favour from him.
In a Facebook post on Tuesday, he wrote,
"TELL ME A SENATOR FROM THE EASTERN PART OF NIGERIA THAT HAS REACH OUT TO HIS CONSTITUENTS LIKE THE DISTINGUISHED SENATOR ORJI UZOR KALU WITH PROVE AND YOU STAND THE CHANCE OF WINNING INSTANT #200,000.
"Visited my mentor Distinguish Senator Orji Uzor Kalu today in his home town Igbere, l am honoured and humbled by the Royal treat you gave me today in your palace, fortunately he was going out to supervise the road projects that he built for Abia North Constituency as a Distinguish Senator, the road that connects from Igbere to Item. Amaokwe Item (Uzor Rubber road) Mkporo Road and Bore hole funny enough Mkporo people couldn't get potable water for years, but the Distinguish Senator was able to get portable water and also built the road that connects from Item to Mkporo. He also Renovated a Primary school in Okoko Item. It was a huge honor to witness all the on going Constructions in this part of your Constituency. I don't know how to praise people to get favour because l am blessed already. (Akaririm okwum kotere)
"This one is not audio /radio Construction oooo ana ekwu ekwu ana eme eme. Keep up the good work my Senator, please other Senators should take a cue from here. It doesnt take anything to help your people. My discussion with him today shows he has the interest of the Igbo's and Nigerians at heart. Long live Federal Republic of Nigeria, long live Abia State, long live Senator Orji Uzor Kalu."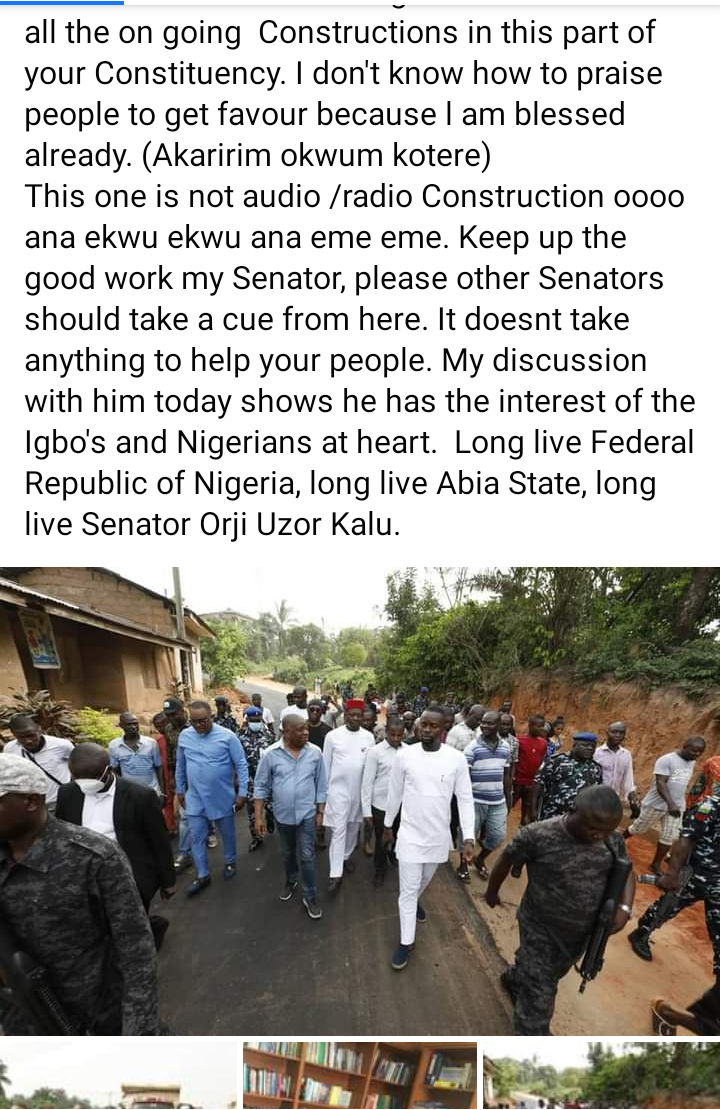 SUBSCRIBE TO OUR YOUTUBE CHANNEL
---
---
For publication of your news content, articles, videos, or any other newsworthy materials, please send to abnonlinetv@gmail.com
For Advert and other info, you can call 07013559600 or send a WhatsApp Message to 07013559600