Sen. Orji Kalu's Profile Soars As Ohafia Royal Father Makes Big Traditional Presentation To Him (Photos, Video)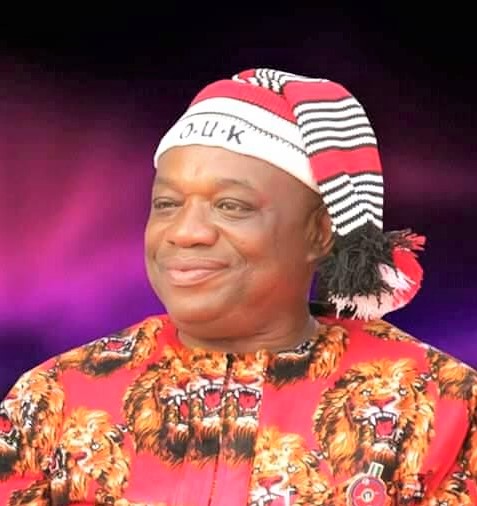 The Senator representing Abia North and Senate Chief Whip, Dr. Orji Uzor Kalu has remained in the news recently especially within the circle of Abia political environment and his constituency where he has been widely appreciated for the effective representation of his people in the Senate.
ABN TV reports that the latest is coming from the Traditional Ruler of Ebem Ancient Kingdom, HRH Eze Ukoha Kalu Ukoha (JP) who has presented the former Abia governor with wrapper, war cap, eagle feather, chalk, and other traditional representations to symbolize his acceptance and achievements which directly affect the people's life for good.
Sen. Kalu was in Ebem Ohafia at the weekend for the burial of Mr. Friday Arunsi, a 19-year-old man who was killed last year during lockdown in the community by trigger-happy policemen.
Sen. Kalu was at the event represented by the represented by D.G, OUK Movement, Rev Mrs. Jemaimah Ola Kalu.
Others present are; The Media Aide to Senator Orji Uzor Kalu, Hon Maduka Okoro; Hon Steve Anagha Ezikpe Chairman OUK Movement Ohafia LGA; Barr. Okon, Barr Ayi Uma Mbila; Madam Ann Elendu; Madam Rose Ogbureke; Hon. Chief Lochi Agwu Ngam, Chief Ogboso, and other members of Reality Organization.
Kalu had shortly after the event paid a courtesy visit to the Traditional Ruler, Eze Ukoha.
READ ALSO: Sen. Kalu Storms Ohafia For Friday Arunsi's Burial, Assures Family Of Support (Photos, Video)
During the visit, the Royal Father presented him wrapper which according to him symbolises his level of regard and acceptance in Ebem Ohafia, declaring that by the presentation, he is regarded and treated as an Ohafia man.
Eze Ukoha told ABN TV that the war cap which in the olden days was given to a warrior who has conquered enemies was given to the federal lawmaker as a symbol of honour for his achievements as it is today, especially when it has to do with achievements affecting the lives of the people.
He further explained that the chalk offered to Sen. Kalu symbolises purity, which he said begins in the mind.
According to the Royal Father, it is offered to very important visitors in Ebem Ohafia to indicate that they are received with a pure heart.
Recall that Senator Kalu was also in Ebem Ohafia December last year to honour the parents of the Director ABN TV, Ifeanyi Okali who celebrated the golden jubilee anniversary of their marriage.
Eze Ukoha said the opportunity of the second visit of Sen. Kalu in Ebem became an advantage to present him with the chalk which he will also use to attend to visitors in his home since it was not given to him during his earlier visit.
Sen. Kalu did not leave Ebem without speaking words of comfort to the family of Friday Arunsi as well as offering a token to ameliorate the effect of his loss, being the breadwinner of his family.
He also promised to keep in touch to ascertain their state of welfare.
Watch The Video Below….
SUBSCRIBE TO OUR YOUTUBE CHANNEL
---
---
For publication of your news content, articles, videos, or any other newsworthy materials, please send to abnonlinetv@gmail.com
For Advert and other info, you can call 07013559600 or send a WhatsApp Message to 07013559600