Reflection: The Chosen Life of Hon. Nkeiruka Onyejeocha
Anyone who has found his or her ultimate purpose in life, and is on a quest to fulfill that mission, is unstoppable. This is true for every human being with a positive and focused direction in his or her life. Definitely, the Universe will conspire at all times to help him or her achieve that purpose.
Hon. Nkeiruka Onyejeocha, the Deputy Chief Whip of the Federal House of Representatives have chosen her purpose in life and she is so focused on fulfilling that purpose. The purpose she has chosen is a "Selfless Service to her People and to humanity"
"I have a Life with significance and real purpose, and I am proud of who I am" she once said to a congregation of over Eight hundred widows drawn from the two Local Government areas she represents, who assemble at her country home in Ngodo Isuochi, Umunneochi LGA for their monthly prayer meeting organised and sponsored by the Honourable Deputy Chief Whip herself.
READ ALSO: Raising Others Is Greatest Legacy Of Successful People, Sen. Kalu Advises
The essence of this monthly meeting according to her is to help the widows to understand their true self and purpose; by assisting them in discovering their major goals and roles in life; and showing them how to live their life fully with dignity, integrity, and passion, notwithstanding their condition of loss.
Every human being needs encouragement and the needed support to be empowered. Each one of us, everyday meets some form of setbacks, obstacles, or frustration. Through this monthly prayer meeting, these widows are encouraged and empowered to not allow the life disappointments they face to grow them into feelings of failure, discouragement, or dejection by society.
To be inspired, every person needs hope for a better tomorrow. Each individual needs to live true to her identity. Each of us needs to feel wanted, respected and loved. We all need to discover the real passion for living. And every single person, every single day needs to have his or her spirit lifted up through a meaningful, dignified and noble purpose. This is the actual aim for which the Deputy Chief Whip of the House of Representatives intends to achieve with these widows. This is what is called "True Empowerment"; teaching them to learn to fish on their own rather than being pitied and treated as "hopeless" by society.
At the monthly meetings, the women are empowered to unleash their ultimate potentials and take absolute control over all aspects of their life. The intention is for them to harness their personal power, design a magnificent purpose for their life, and set the course to become the Masters of their own individual destiny.
While some politicians are busy assembling political structures to win elections, this virtuous woman have made herself a blessing to the widows and the not-privileged. Showing them love and concern; wiping away their tears; and giving them a new and worthy life.
According to her, the monthly meeting was initiated when she discovered through her Foundation, The Nkeiruka Onyejeocha Foundation, that there is an increase in the number of widows within her constituency who are below the age of Fifty and with children they can't even take care of. Majority of these young widows do not have substantive means of livelihood, and they feel oppressed by their late husband's families. She then decided to give them a sense of belonging by bringing them together under an umbrella where she can restore their hope and empower them for a better future.
Hon Nkeiruka Onyejeocha does not only feeds them physically and materially, She also supplies them with the spiritual food necessary for their growth. She has become a "husband" to these women; not only providing them with food and clothing, financial assistance to support their families, and empowerment to earn a living; she also teaches them spiritual empowerment that would take them out from the negative thoughts that breed darkness and to translate them into positive thinking which would transform them into a life of joy, fulfillment and of cause physical prosperity.
Every month this "Lady of Hope" who is also known everywhere as "Madam Empowerment" makes out time from her busy schedule at the National Assembly, Abuja to fellowship with these widows. She has so bonded with them as a family and have never missed to be with them each month since the inauguration of this worthy project.
As at the last meeting, one could feel the positive vibration coming out from the women. They do not anymore have that feeling of dejection and or hopelessness. One can see how vibrant they are and feel the aura of freedom and liberation that glows from them.
"God will bless Ada Ejiagamba for us. She has given us the reason to live. She has empowered us so much that we can take care of our families. She is in fact God's sent to the widows and we pray for her every day. No weapon formed against her can prosper. God will sustain her for our sakes." one of the ward coordinators of the program from Isuikwuato Local Government area prayed.
Just recently, in a similar development, this Hon member decided to remove a burden from the parents in her Constituency by offsetting the registration fees for all the students sitting for the West African Examination Certificate within her Constituency. She even directed that those who have already paid be refunded their money. The same way she paid for those sitting for the JAMB examination in her constituency last year 2020.
According to her "Good education is the bedrock of any meaningful Society and no Society can make any reasonable Progress without paying rapt attention to the Education of her people"
"I have seen the power of Education and I have decided to the best of my ability to continue to bear the cost of WAEC examination for all the students in the Public Schools within our Isuikwuato/ Umunneochi Federal Constituency"
"As the one holding the mandate of you my people, this is one of the ways I wish to contribute towards increasing Human Capacity Development HCD in our Constituency which I strongly believe will help us end Youth School dropout and give purpose to our youths"
READ ALSO: South East Will Be APC Zone Soon — Hon. Onyejeocha
According to a great sage Mahatma Gandhi, "Each one of us is setting an example for someone else, and each one of us has a responsibility to shape the future as we wish it to be" This is the way "Madam Empowerment" have chosen to shape the future of the people of her constituency; to give them a purpose and positive direction in life.
As a worthy mother, she has chosen her ultimate purpose in life and she is in a serious quest to fulfill that purpose; and nobody can stop her.
She is unstoppable because she is in sync with the universal powers. Her selflessness in giving and selfless leadership is what the universe craves for. Her Selfless representation makes the people rejoice, and when the people rejoice God in heaven is happy.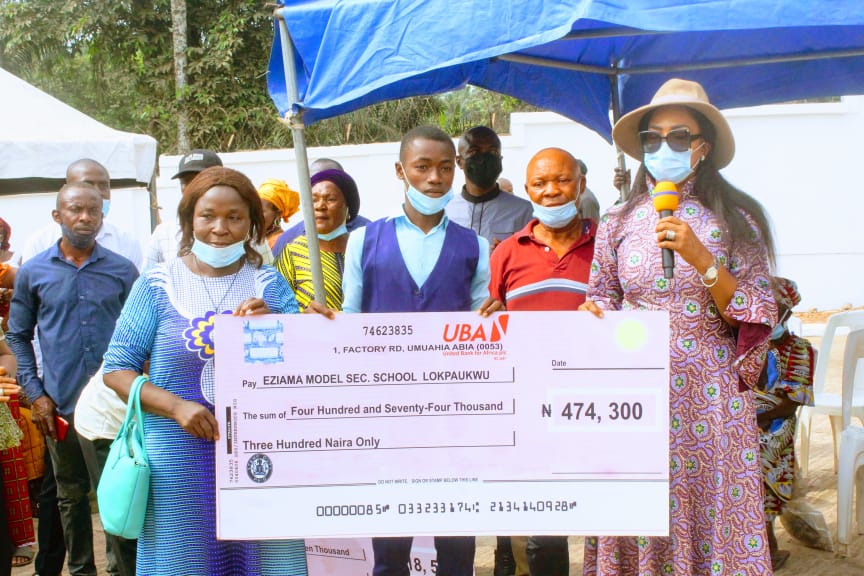 The prayers of the widows to heaven alone is enough to make the heavenly powers come to her sustenance; to protect and defend her from every darts of the adversaries, and empower her to do much more for the great people of Isuikwuato/Umunneochi Federal Constituency who have found her worthy of holding their noble mandate.
The hand of the giver is always on top and blessed be the hands that giveth and also the hands that receiveth.
SUBSCRIBE TO OUR YOUTUBE CHANNEL
---
---
For publication of your news content, articles, videos, or any other newsworthy materials, please send to abnonlinetv@gmail.com
For Advert and other info, you can call 07013559600 or send a WhatsApp Message to 07013559600